Story Behind "AAO KABHI HAVELI PE"
I am enjoying my life, criticizing Amit bhadana for creating cringe videos, then suddenly Something happened which gave me an idea for the next video.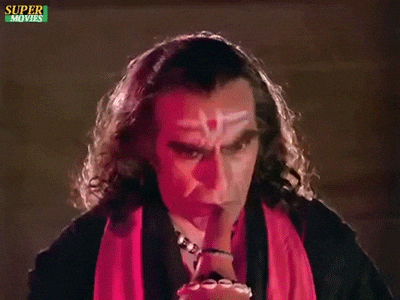 Meme Pages Flooded AAO Kabhi Haveli Pe Posts
Meme Pages of India are very good at converting for getting something go viral overnight. I saw they start using aao kabhi haveli pe Amrish puri picture everywhere. I am hungry "AAO Kabhi Haveli Pe" Then People start using in each and every place in realtime friends start using this phrase aao kabhi haveli pe and it's funny actually kids love hotel men love resorts legends love HAVELI, there are tons of example I can give to you there some meme I am sharing and I shared in my video then we will talk about its origin.
You Can Visit These Blogs If You want to see more Memes On It
Origin Of Dialogue "AAO KABHI HAVELI PE"
So When I Decided to make a video on Aao Kabhi haveli pe I start searching the video, but you know I am not able to find dialogue but I am able to find the scene. Because exact dialogue doesn't exist I guess I am able to find the costumes in which meme pages are sharing aao kabhi haveli pe with a caption but not dialogue after some research internet people help me according to them :
Ummm. It's difficult to tell the origin of this meme. Mostly, people are saying that there was a dialogue "Aao Kabhi Haweli Pe" in film "Nagina" (1986), delivered by Amrish Puri but some are denying it & saying there was no such dialogue in that movie.

But yeah, you cannot deny the fact that it has gone viral on social media now, people are sharing it on Facebook, Twitter, Instagram & everywhere. When it comes to internet & social media, anything can go viral at any time, even if that particular thing originated in the past.

By the way, if you hear this meme "Aao Kabhi Haweli Pe"… it's so hilarious, that's why people are coming up with new jokes using this meme & it's trending…

'Aao Kabhi' haveli pe' is literally a famous villainous dialogue delivered by the Bollywood badass, Amrish Puri. Though it's hard to clarify the movie in which this dialogue was basically delivered.

However, this dialogue is now a famous meme used among Indians.
So Let's Enjoy The meme without giving time for from where it's originated. I have created a video I hope you enjoyed if you want to read similar videos watch the HASHTAG TV section you will enjoy I try to bring my humor in Hashtag TV content. if I ask to create your own "AAO Kabhi haveli pe joke" Comment Down below.